These are strange times and in strange times we must sometimes do…unusual things to keep us sane.
I've not ridden a long bike ride this year at all so thought as soon as the weather turns better, I'll do a biggie. But what should I do? Inspiration came when someone on Twitter posted photos from their Monopoly board tour. In London. I've no idea how far they travelled but it can't have been far. You can stand with each foot in a different location I expect in London, and they're all within a couple of miles of each other. Plus, a major issue for me is, I don't live in London. And we're all supposed to be staying local.
So I found the Monopoly board of my nearest city, Manchester, and decided to do that. First off, the best bit, planning it and creating a route.
There are 28 different locations in Manchester monopoly.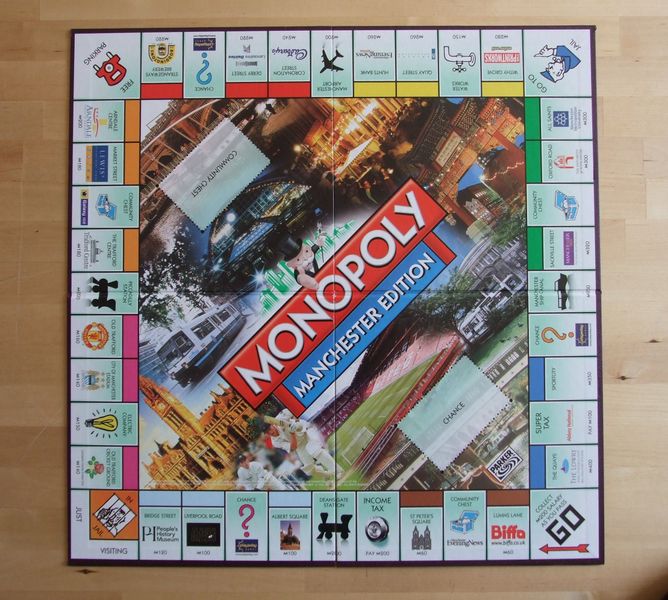 Spoiler, they're not all within a couple of miles of each other.
What's that one at the bottom? Manchester Airport.
And the one at the top? Lumns Lane, essentially Manchesters tip. No, I don't know why those are in there either.
Best get on it then. Plan a route and makes some notes.
Why am I starting right out there? Well, I don't live in Manchester either. I live in Leigh. 67 mile round trip. Lovely day found, lets do it. Run the pictures of a gormless looking bloke stood in front of Manchester landmarks.
I crossed the ship canal quite early on so that was an easy one.
Manchester airport. Really, really quiet.
Next I headed towards the city centre and bagged a few of the ones near Oxford road. All Saints, Sackville street and Oxford road itself.
Piccadilly station, also quiet
Then I headed out to the East for Sports city and Manchester City's football ground before heading back to the centre and over to Cheetham hill for Derby street, Strangeways prison and Strangeways brewery which has now been completely demolished. There used to be a chimney in a car park left of it but even that has gone now.
Round Manchester Victoria, to get a couple and then onto Deansgate to collect the remaining city centre places including Albert square.
Then down the beautiful cycle lanes of Chester road and Bridgewater way to media city to get the Quays and Manchester's most famous street.
Past the three Traffords. Man united's ground, the cricket ground and the Trafford centre
This one I struggled with, the Water works. There aren't many water treatment works in inner Manchester but luckily I was in Trafford which has one of the biggest waste water treatment works in Europe, that'll have to do.
(This is only a very small part of it)
Lastly, Lumns lane. A huge landfill site operated by Biffa.
So, a grand day out. Lovely weather, Manchester city centre is fantastic due to the reduced traffic and extra cycle lanes.